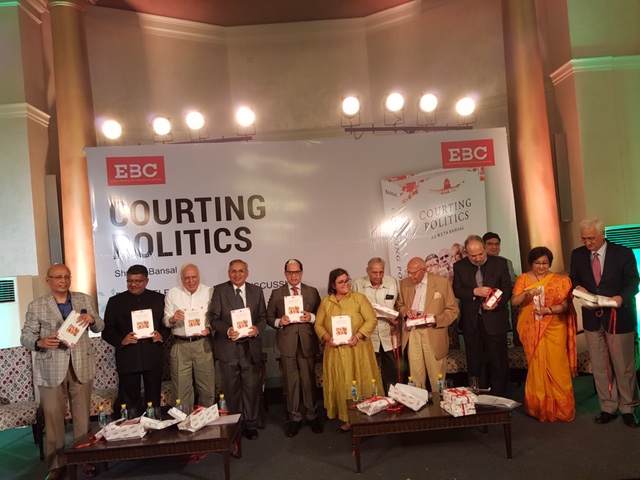 19 August, New Delhi: Courting Politics by debut author Ms. Shweta Bansal is the first authorised biography of nine leading lawyers and politicians of the country. Published by the Eastern Book Company, it documents the lives of Shri Ram Jethmalani, Shri Shanti Bhushan, Shri P. Chidambram, Shri Muzaffar Hussain Baig, Shri Kapil Sibal, Shri Arun Jaitley, Shri Salman Khurshid, Shri Ravi Shankar Prasad and Shri Abhishek Manu Singhvi. The launch event which was held at Bikaner House in New Delhi on 19th August 2017 witnessed the presence of all the dignitaries featured in the book over a panel discussion moderated by Ms. Shereen Bhan.
Courting Politics is an anthology of biographies of nine notable men in the field of law and politics. The book is divided into nine chapters; each dedicated to a dignitary, and is a compilation of their short biographies written through the prism of law and politics. Each chapter discusses the journey of its protagonist highlighting the ups and downs in their professional and personal lives. Courting Politics is an attempt to look at their lives as not just politicians and lawyers but as ordinary human beings. It exposes their rawest emotions and deepest feelings – their love, despair, grit and triumph.


It deals with the relationship between lawyers and politics through these nine lives. The book is a result of interviews conducted over the past one and a half years with these legal panjandrums and their personal and professional peers like Dr Manmohan Singh, Shri Rajnath Singh, Soli Sorabjee, Prashant Bhushan, Nalini Chidambaram, Justice Markandey Katju, Sudhanshu Trivedi, Jairam Ramesh, Mani Shankar Aiyer, Rajat Sharma, Ahmed Patel, Akhil and Amit Sibal, Aditi Phadni, Surjit Bhalla, Montek Singh Ahluwalia, Barkha Dutt, Karan Thapar, Jyotiraditya Scindia, Shobana Bhartiya, ASG Tushar Mehta, Sushil Modi, Honble Minister JP Nadda, Subramanium Swamy, Shardul and Pallavi Shroff, Shoma Choudhary, Mahesh Jethmalani, Dolly Jaitley, Rohan and Sonali Jaitley, Aditya Shankar, Shekhar Gupta, Anuradha and Rajiv Shukla and many more.

"If we see the numbers the Indian Parliament is headed, layered and controlled by legal luminaries. I discovered the idea that these lawyers in politics have not been written about and incomplete stories float about them in the public domain, which barely do justice to their lives and achievements. But most of the time, the process has been a race against time. I was waging war on various fronts – personal and professional. After several rounds of interviews with them over the past two years, I realised that they suffer the same fears and insecurities as I do however what makes them special is their extraordinary quality to work hard and persevere." says, Ms. Shweta Bansal.
Courting Politics helps its readers to understand the evolution of Indian Democracy through the eyes of our legal system. These are intimate tales narrating the lives of these men and contain information that is largely not in the public domain. This book is an attempt to look at their lives as not just politicians or lawyers but as living breathing human beings.
To Buy Courting Politics Now CLICK HERE