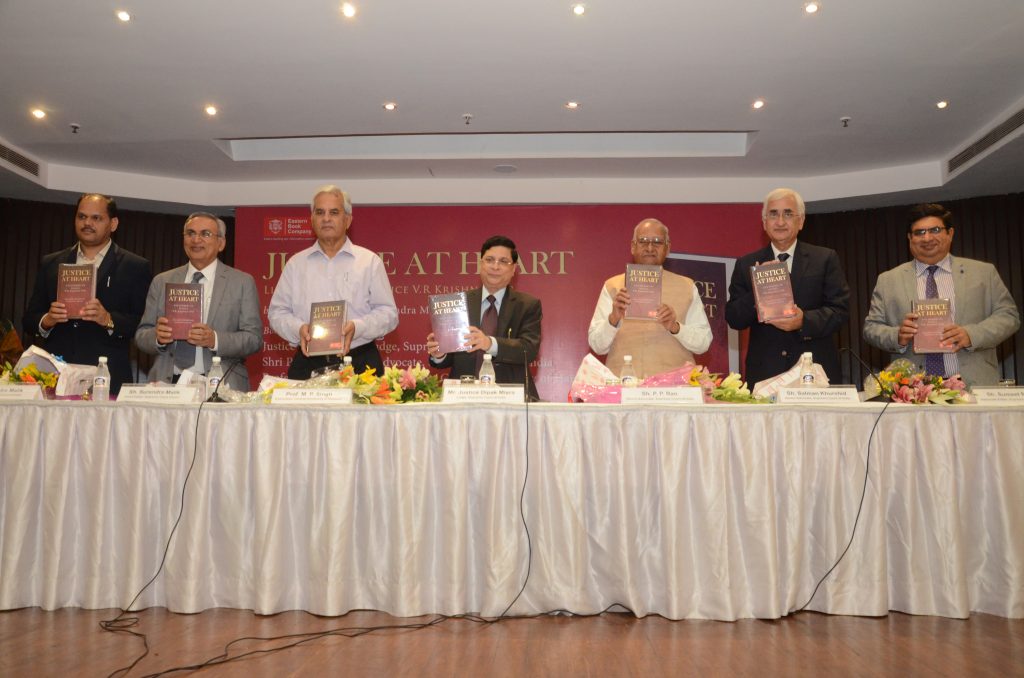 The legal classic, Justice at Heart- Life Journey of Justice V.R. Krishna Iyer, was recently launched at India International Centre, New Delhi. The panellists at the book launch function were Justice Dipak Misra, Judge, Supreme Court of India, Shri P. P. Rao, Senior Advocate, Supreme Court of India, Professor M.P. Singh, Chancellor, Central University of Haryana. Also present were Chief Justice Ahmadi, Justice Narayanan, Mr. Bhardwaj, Former Union Minister and Governor of Karnataka.
Justice at Heart: Life Journey of Justice V.R. Krishna Iyer is a humble homage to the legendary judge who lived and worked for social justice for the people of India. Justice Krishna Iyer was a towering and a multi-faceted personality having a varied experience of life. He has inspired many persons by his philosophy of life, and his insatiable hunger for socio-economic justice. An ardent advocate of change for better, a person with simple habits, he was a friend of all.
Sumeet Malik, Associate Editor, Supreme Court Cases, initiated the function and welcomed the esteemed guests, "Justice Krishna Iyer has been the author of many books, some of which we at Eastern Book Company have been privileged to publish, and he has been the subject of many books. I do hope that this book shall be a worthy addition to the collection of literature of a worthy man."
The book was released by Justice Dipak Misra, who effervescently lauded the work, "I congratulate Mr. Salman Khurshid, Prof. Lokendra Malik for writing the book which has a biographical sketch in a different way, different style, and I must unhesitatingly congratulate Eastern Book Company for bringing this book with a beautiful cover and it belies the saying don't judge a book by its cover".
The audience was enthralled with a scholarly exposition of the book by Prof. M.P. Singh, "I am glad that I am here to speak on a wonderful book, Justice at Heart-Life Journey of Justice V.R. Krishna Iyer is a remarkable book in a number of ways… The book released today matching with the stature of Justice Iyer also has an exceptionally beautiful cover, majestic get-up, and the best available paper, easy to carry for its size."
Sri P.P. Rao, who has also contributed an erudite forward to the book based on his personal interactions with Justice Iyer in and outside the court, appreciated the book thoroughly, "… I am happy to be here on this occasion… this book tells you something of many facets of his life, that is the uniqueness of this book… It is a very nice book to be written, and the illustrious authors and publishers deserve a big hand…".
The following is the link to this book on our EBC Webstore,
Justice at Heart
Order your copy NOW!
Justice at Heart is also available as eBook on the EBC Reader.